Joined

May 13, 2006
Messages

16,918
Location
NNID

Dark.Pch
3DS FC

5413-0118-3799
This thread is to talking about match ups and crack a solid way to fight said characters. You can discuss match ups here and your concerns. What I will be doing on my end is posting stuff I know thus far in a match. I have many write ups on match ups that I do on my spare time when I fight characters. Or I just sit in my PC and brain storm things to make things better. I'm a big nerd and do a lot of research. Don't Judge me.
If I don't Fully know a match up, I am not gonna do a write up. I want to understand it fully, Not just 50-70%. 100% is the goal here. That way people know all their options. And know how to deal with everything a character does. I will have a set formula On how to break a match up down. match ups can be updated if people find new things or problems.
Anyone who has good insight on how to deal with a character can post. if you have not played a match up a lot or have no clue how to deal with it, don't go saying that this match up is bad and etc. You can post your problem and if someone knows how to deal with it, they can post it.
Marth/Lucina


​
Fighting Marth you need turnips to get through his zoning. His air attacks are both fast and have more range then Peach. So the best way to get through all of this is through turnips. Try to get a turnip when ever you can and move around with it to bait something. Then counter with a turnip toss and move in to take control of the match. You do not wanna focus too much on going in with air attacks. He can punish you well on wiff attacks, you just beat you to the punch with fair/Bair. Get him in the air as much as you can, and use this time to get a turnip. He has poor landing options.




Spaced auto canceled fair on shield, Marth can ether Dancing blade which takes 13 frames from a shield drop. 11 frames if he jumps out of shield. Both have good range and 6 frames. These are the fastest options Marth has from shield to punish fair on landing. (up-B if fair is not spaced.)

Countering attacks out of shield:
Peach really does not have anything with good range to punish Marth for swinging. One thing that would be best is to short hop air dodge, to evade an attack then punish with a Z-drop turnip or an air attack. Don't wanna try to pull away cause you give up pressure and reset Neutral. If you have a turnip in hand, you can run back and toss it at him as he does a dancing place out of shield. If he jumps to an air attack you can jump back and toss it at him. If its a full hop stay grounded and punish his landing while out of shield breaker range. For this is his longest range upon landing. You can do this with short hop air attacks as well.




After landing a turnip on shield From this range, You can do a spaced nair on shield. After, one thing you can do in terms of attacking shield is Jab 1. Use this to shield pressure. Unless they wanna mash something, then just double Jab. It has least amount of cool down time in terms of grounded attacks, next to Ftilt. Which ends one frame later then jab 1. Ftilt can be good as well. It comes out on frame 7. this can beat any option outside of up-B Marth dishes out of shield. Peach nair is +5/0 if you hit with the early Part of her nair and the opponent sheild drops. -2/-7 if they don't. Still safe. So hitting with the early nair and then fast falling it will make you unpunishable on shield. You can also Dtilt Marth after landing this and spacing it to counter grounded attacks out of shield. Also can't be punished if spaced.




While tossing a turnip and having it ether caught with an air attack or swatted, you have a few options to keep stay close to Marth to punish his landing or counter/start pressure. If Marth jumps then lands, you can short hop air dodge to avoid any counter attack. If he double jumps and comes down with an air attack, you can short hop air dodge it and can punish his landing. Or start shield pressure with Jab/Dtilt. If You have a chance to go under Marth you can hit him with an Uair/Up-B. The next thing one can do is just get a turnip if you see him pulling away with a double jump and proceed to go in with it, when its safe for you to get a turnip that is.




When you hit Marth with a turnip and recatch it from this range, you can toss it again as you fall and follow up after that. it takes 8 frames for the hitbox of the turnip to be out after an air toss. Around this time any air attack Marth tries to come at you with will get countered attack by the turnip. Then you can follow up from there with an attack depending on distance/percent. If the turnip is Block, you can dtilt the shield and pressure it. Or follow up if it hits. If you are not sure what the opponent will do, you can just hold on to it and stay close to marth with it. And use the other turnips methods already talked about here to take/gain control of the match.




When you toss a turnip for an edgeguard you can do a few things based on the opponents actions.
Attack: You can follow up after the turnip for a kill. if i gets swatted you might have time to punish the recovery of their attack with yours.
Airdodge: You can hit them after the air dodge. If you don't feel like you can get it, you can go for a ledge turnip once they up-B

Double jump: Hit them with an air attack out of it.




If he recovers low, you can Float over the ledge and Z drop then drop to a Bair if the turnip hits. He could hug the stage to avoid the turnip snipe. Thats what the bair is for. If he uses his double jump, you could hit him out of it it with a turnip. Then Fsmash/counter the up-B since the opponent can not grab the ledge for about a second after getting hit.




Floating near the ledge here to a Z drop is a good way to edgeguard in this situation. Of toss turnips down at him from this angle and force an up-B. The you can hit him with a counter/fsmash.
C.Falcon
Zero Suit Samus
Luigi
​
Approaching:
One way to get close to luigi is using short hopped air dodges. If he wants to to shoot a wall of fireballs, you can short hop air dodge through the airborn one and nair him if he shoots the grounded one. From a distance you can air doge to get at a certain distance then use your float to pull back and toss a turnip or a spaced fair if you think he will go for an air approach or grab. Dancing through his fireballs and good float tricks evasions/baits can make it hard for him to hit you and leave him open. You can air dodge, then jump at w/e height you want and cancel it with a float. Then land on top of luigi with a dair if he tried to follow up after after the fireball. On the ground you can snip him on the head with a turnip from here if close enough you can catch the turnip and then float back a lil and you are in range where he can't freely use his fireballs. Giving you the advantage in Neutral.
Edgeguaring:
Unless you have a stitchface, you are not gonna hit him out of his up-B for a recovery. So don't bother. His tornado you can. If if he has no jumps and has to tornado, you can toss the turnip down at him or Zdrop it. After he has to up be. When he is about to do it, Side B towards the ledge and hold down. This will not make you grab the ledge. Here you can hit luigi off the ledge to a nair/bair for a kill. Or just keep him out there. Pay attention to when he has his jump and the angle on his low recovery. This is hard to do if he has his second jump cause it can screw up your timing. So in this case just go for ledge trumps if he has to grab ledge. Try to force a jump or snip his jump/Side B to make this easier.
Recovering:
Luigi can't really go out there to harass you. He can throw out a few fireballs here and there but nothing major with edgeguards. Just be aware of off stage tornados if you try to recover low. And obviously don't try landing on top of luigi.
Gameplan:
You mainly wanna maintain a range where he can not really dish out fireballs. From here you have the advantage. You outrange luigi when he is facing you. You can actually have a turnip in hand and fall on luigis shield (spaced) with a fair and he can't punish you. This can help you pin him towards the ledge. And anything he tries to you, thats what the turnip is for. And helps maintain neutral/control.
When hitting luigi, you want to hit him twice at most then back off within your combos. Cause most ill just toss out nair on you. Always give up the hit and block If you do, free punish. if he air dodges, free punish. Its better for you for he can't do anything. He gets rewarded if you choose to swing. Here is an example on how to combo him. For those that are good with the upair spikes from dair, if you did this to luigi, he mash out jab and you get hit. So what you do is after the uair spike, roll behind him and dtilt. He will mash out jab and you get a free down tilt to dair to fair. If you get a dtilt at low % you can do a grounded nair to a spaced Dtilt. This will beat his nair/jab if he button mashes.
if you are ever in shield luigi, don't try to punish him unless he does something unsafe like a early nair. He has good shield pressure that its not worth trying to challenge. Block for too long and you get grab which is what you dont want. Push a button and you are gonna eat a hit. They both but you in nasty spots but the grab is worst. So if anythng try to evade BUT DONT PANIC OR BE PREDICTABLE WITH IT. Good players will bair this if you seriously thing you can do this all the time. Mix it up and just don't try to counter him out of shield. If you ever get grabbed to a tornado follow up, you can smash DI it by taping down initially but you wiggle the stick while holding down so it registers multiple "down" inputs. like a quarter circle motion. dont worry about the c stick for sdi in smash 4 because it doesnt do anything.
Blocking fireballs are not worth it unless you have no choice. he has low cooldown time after it and anything Peach does grounded out of shield will be 7 frames longer. Peach has no range or speed infront of her. Giving luigi enough time to counter what you try to dish out with his attacks. Just use the approach method to deal with them. it keeps you moving around and being still in one spot is something you should not be doing on him. I not really risk challenging his fireballs to much. Your bair can be ok with air air balls or some grounded ones. As well as dair with grounded ones. But can leave you open for her moves are ether slow or no range. Giving luigi enough time to get close and pressure you or counter attack you with tornado approaches. And he has alot of good anti air, upsmash being the killer. So you dont wanna risk stuff like this on him too much.
Overall:
If you can maintain a good neutral game and good evasion on fireballs, you can give luigi a hard time. He hill have a hard time getting anything started and when in range, you have a better neutral game then luigi. He also can't really punish you out of shield with spaced moves. Cut your pressure strings short so you wont for for basic stuff like nairs, smash attacks, jabs and being left open for rolls, side steps. As long as luigi is facing you, you have the advantage since you out range him. End your combos early to bait nairs/jabs and frame trap him with your dtilt. Space your moves when safe to do so for luigi cant take control and punish you on with with fireballs and tornado approaches.Keep mobile on the ground with QFR and the air with short hope airdodges and you should be ok.
Sheik​
Approaching:
You need to have a turnip in hand to get in on sheik safely. if sheik is shooting needs float over them with a turnip in hand. After she through them, get in range where she can not shoot anymore needle. Now you are at a range where she can't shoot them so easily and you have a turnip in hand to get a hit or force a defense option to take advantage of. Grounded approaches use QFR mixed with jump cancel throws or Reversed smash throws. But only after you conditioned the player to stop throwing needs with the air approaches. You can also used short hoped air dodges to for a grounded attack and punish with a nair. This makes it hard for shiek to hit you.
Edeguarding:
If shiek is recovering low and trying to sweetspot the ledge, you have a few options. You can float next the ledge and the moment you see shiek vanish, toss out a nair. You will ALWAYS hit shiek if she goes for the sweet spot. Another thing you can do is time a Peach bomber if she decides to sweet spot the ledge. When you Peach bomber, hold down on the control stick so you dont grab the ledge. This will hit shiek and catch the one frame window a character is open when they sweet spot the ledge due to how active the hitbox is. When you hit shiek at high%, you can get a free bair (a true combo) and kill her). if she tries to bouncing fish to the ledge you can float a lil above shiek and hit her with a dair.
This next one is a frame trap edgeguard but need to be careful with this one. If shiek is at mid/low height,you can run off, toss the turnip, then quickly use the second jump to a toad. This is to shut down the bouncing fish option. if the turnip hits, she is forced to use her second jump. And might have to up-B towards the ledge. Now if the turnip does not hit the bouncing fish, thats what the toad is there for. You can counter her bouncing fish. This makes it really hard for shiek to safely use the move. Now lets say you miss with the counter. You are at the perfect height to Peach bomber towards the ledge. If shiek has to up towards the ledge after the bouncing fish, you can hit her out the sweet spot and land a bair to take the stock or just knock her off stage.
If Shiek does not go for the bouncing fish, just go for a turnip snip and force an Up-B. if far enough, just Nair on the ledge as she sweet spots it. Keep in mind that the only way shiek can stop this is if she chooses not to sweet spot ledge.
Recoverying:
DO NOT try to fight you way back on stage. It's seriously not worth it. You will mostly likely lose the fight. Go for low recoveries/ledge.Trying to air didge her fair can also ledge to a frame trap where you are open for another fair or upair. Seriously don't trying attack your way back on with fair and dairs. Just go for low recoveries. if you have to recovery high, weave in and out and time an airdodge while puling back . I'll say this one more time. DO NOT SWING AT SHIEK COMING BACK ON STAGE.
Gameplan:
You mainly wanna be out of Ftilt range against shiek. Reason for this is you are not beating shiek upclose. You can space Dtilts if she chooses to dish out a FTilt. Your Dtilt out range her F/Dtilt. This is a range she has to respect. Just know the distance.Or her tilts and where to stand when near her. With turnip in hand, mix up dem QFR with jump cancel throws or reverse smash throws. This stops sheik from freely jumping in on you or coming in with dash attacks.
A good turnip game is a must. You are not really gonna get much started without one. When you have a turnip, fight with it in your hand. And get in range via air when she is throwing/charging needles. You need to maintain this range often so she can't use her needles and you can use projectiles. You have the advantage here vs shei k with turnip.If you get a hit on sheik with it, Z grab it and then go in for dair pressure/mix up. When you space a fair on shield, a Ftilt will anti air her fair out of shield. The only 2 things she can do to punish this a bouncing fish and a possible dash attack. Use this to condition shiek from tossing out fairs out of shield. Ftilt wont hit you. And you can frame trap her with a Fsmash (golf club) if she wants to Ftilt out of shield. As well as her dtilt.
Sheik has one of the best rolls in the game. Due to how low recovery it has. So for advance players who are good at baiting rolls and punishing them with dash attacks, I advise you not to try and puniah her roll with dash attack. Meaty her roll with a Dair. It's much safer. Same thing if they were to roll and then side step. Do't try to punish it with dash attack. it is possible but seriously hard. Not worth it.
~ Meaty means throwing in an attack as someone gets up. they will get up right into the attack when doing an invicible action such as a get up attack/roll/sidestep, teching in place and a normal get up~
At mid range you can go in on shiek with turnip tosses to fairs. Good way to keep her from throwing out air attacks and get a follow up.If she blocks it, you can ftilt to anti air her fairs. Her fair punishes shiek fair enough that she can not fair you for a punish. Nair can work depending on distance but be mindful that the range is not great and can leave you open. In this case frame trap shiek with a ftilt after you with nair. Still can stop her approaches. Jump cancel throws are really key here at this range. You could snuff her out her rolls or force a block to go for pressure/mixups for damage. Regrab and repeat.
If you sense a bouncing fish, don't block it. Sidestep the move. its super laggy on the ground and thats a free punish. Beware of this move when you are off stage as well. Get ready to evade the move or quickly drop low for an up-B which will hit her out of it.
Overview:
This match is where you seriously need to be on point with your netrual game. And have a solid turnip game. I seriously recommend that you go to training mode and practice QFR's with turnip tosses and fighting with it. Be creative with it. Use short air dodges follow by nairs or float mixups. This makes it hard for shiek to hit you. And she lacks the power to finish a character off early. Even average ones can get away with murder on you just being auto pilot. If you are ever caught with a fair, DI up and away or smash DI. This is how you get out the combo. Do not rush approaches when when you are floating to shiek with a turnip in hand, do not go in swinging. Sheik will ether anti air you or just evade and it gets you know where at all. You have to let her react first unless they block alot when you go near. Punish her hard off Dtilts at low %. She gets rekt by these leading to 50-60% of damage. Don't be one place for too long. Stay moving while near sheik. The moment you start doing this, the easier she covers your blind spot. Which is being out of your nair range. Anything you try to do here, she can punish you for it. So do your best to avoid haing your blind spot pressured. And space your omves well with auto canceled fairs and RAR Bairs. This helps if she tries to attack you in the air or ground with approaches and tilts.
~ RAR is when you run, quicky turn around and to your attack in that direction.~
Rosalina & Luma
​
Approaching:
You wanna mix up air and ground approaches. If Luma is in front of you and can hit it with a strong attack, Luma will go into a free fall animation where it can't do anything until it hits the floor. Rosalina cannot call it back or have it do an action. This is your time to close the gap on Rosalina. if you do this and it gets hit off the stage, it dies. If They both are together, you wanna go in slowly with a turnip. And stay out of Jab/tilt range. if she is spacing jabs and tilts you can go at her from the skies or snip her on the head with a turnip. Grounded approaches you can spaced short/full hop RAR bairs. You can space fairs but it can leave you open on wiff for her dash attack. So best just have a turnip in hand and take your time moving in with one along with short hopped air dodges. Her Nair can stop this approach though so be careful.
Edgeguarding:
She is kinda a sitting duck when off stage, Just look out for people panicing to air attacks when coming back. if baited you can get a free hit off her. Snip her off stage with turnips and for that up-B. if she has to go for the ledge, float infront of the ledge and nair her out. She does not have solid landing option from above so if she throws out Dairs and baited, free punish. Just like Peach, she wants to take her timing landing on stage or going for the ledge due to her slow moves. You can go out a lil and bait a D-B from her and then go back on stage if you have a turnip in hand. From here you can time a nair near the ledge or time a not sweet spotted side B towards the ledge and get the kill.
Recoverying:
You wanna recover low and mix up your timing recovering back on stage. Her fair and bair have good range. So you really dont wanna challenge those moves. Be very careful and look out for Dairs. Time the up-bs. If you feel she will dish out the move, quickly up-B to stop her. Stall with floating, save your jump, weave in and out with timed air dodges IF YOU HAVE NO CHOICE and you can make it back ok. Making it hard for Her to hit you. If you are recoverying high vs her, do not try to fight you way back down, seriously not worth it. you can die early if she has luma with an up-air or take so much damage you could have just avoid if you just respected her moves.
Game Plan:
You wanna stay on Rosalina and not let her get away at all. Keep that pressure 24/7. When She has luma her range is increased. Good use of turnips are really good to get some damage on luma. And also good at baiting a D-B, giving you a chance to get close and start the offense. If they are ever seperated, go straight for Rosalina unless luma is near you and IT IS SAFE to clap her with a strong attack and knock her off stage. This will/can force Rosalina to approach to save Luma. At this time, stop what you are doing and direct your focus to Rosalina. You can also use Peach bomber to get a decent % of damage on her and then bounce away, making you safe from a counter attack, or frame trap them for your counter attack. Once you get luma out the way, the match up is alot better.
When Rosalina fights alone, the only thing she has on you is range with her tilts. But her moves are not really fast. And cant really challegne you too much since her moves are not fast/safe. Go in with safe grounded/air approaches. Once in her face with Pressue, she does not have any good out of shield options. She will be forced to roll, shield step or block. and as usual, pay attention to how they defend and try to counter attack you. Then apply the proper response/bait to punish.
If she decided to dish out an an attack like fair stay gorunded and approach with a turnip or an spaced nair/Fair. if spacing grounded moves, go in the air. If she wants to through out her D-B, You can actually punish her for it if you throw it at good distance from the air and then land to a dash attack. Her absorbing a turnip gives you a chance to get close to her. Just mix and match when you throw it at her for good baits like jumping to her, she does the move and you get to clap her with a free fair/dair.
Overview:
This is a match up where you seriously have to be patient and can be slow. She has more range then you do and can use luma as a shield to stop your turnip approaches and get a free hit off you. Respect Luma when playing the ground game and don't be too happy in the air. Luma can still air snipe you with moves like uptilt and up smash. Take your time getting baby damage on luma if you can't see a safe way to get in atm. When in the air. Rosalina has good pressure on shield and some nasty auto cancel air mix ups with luma. You don't really wanna try to punish her on shield. Just wait it out and look for right moments to get out of here. Or a counter attack if she does something now safe. The same goes for her when you have her on shield and luma is not around.
You also wanna avoid trying to jab Rosalina when luma is there. if the player is mashing a button after they get jabbed, Luma can hit you. So if anything, try to get behind her before jabbing, but you wanna lay low using this move in this case.
Take your time. and use good movement to look out for dash attacks for they cover good range. That is a good move and you best believe people will be throwing that move out. Keep her in the air as much as you can and mix up the air harassment for if she was to throw out dair. And respect her when you are in the air vs her. Don't be in one place for too long space your moves (even on luma) mix air and ground, and you can make it hard for rosalina to get a good hit on you and decide wether to cover the air or ground. This can limit the use of her just tossing out Luma. Once they are seperated, it can be hell for either of them. Pay attention on both rosalina and luma, pay attention when you can go in and when you have to relax and space moves.
After Playing this match up and taking my time, I feel this match up is seriously not bad. And I squared off against some good ones. I just take my sweet time and respect her moves while making her respect mines. And just rekt her if she decided not too. I do w/e I can to stay in on her when I can and I have been told I am hella annoying when I close in on her and pressure. She freely can't throw out an attack if I am a lil out of reach for I can get free punishes. And it's best to seriously take advantage of this.
Sonic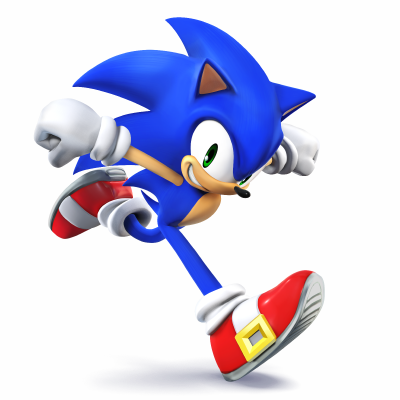 ​
Approaching:
You would want to stay on the ground more then anything. If you try to go in the air and just spam dair, sonic can just stay charging his spin dash till the moment you are about to land and then charge at you for a free hit. And you are also open from the side of her dair. Mix up blocking and timed grounded nairs. Your nairs beat out sonic spin dashes (or nearly his whole moveset.) Do this enough times till sonic decided to calm down on them and move in slowly with a turnip. If you wanna created a good grounded wall, at a safe distance, you can nair then toss a turnip. This makes it hard for sonic to just rush in at you when he pleases. Making him more cautious about it. And making it easier to get close to him and start some pressure on him.
Edge Guarding:
Pay attention to the angle he is at and try to snipe his jump with a turnip (or force him to burn it early.) if you do, you can force him to up-B early and get a free fair on him. be on the look out for random homing attacks. if you see one coming and have good reaction time, you can counter it (toad). if you shield it, you CAN punish him with something like an Up-air if fast enough. Its best to just side step it for a free punish. if you hit him before he uses his second jump, at a certain distance he will be force to use it. You can use this to go out and hit him or go out there and recatch the turnip and frame trap him for a kill with an air attack. This is a lil more advance edgeguarding. But just keep it simple and you will give him hell coming back. If he has to recover low, just float near the ledge and nair. He can't do anything about that.
Recoverying:
Go for low recoveries. Sonic is goood at keeping you out with fair and timed bairs. Don't challenge him coming back on the satge. What you have to look out for when recoverying low is on coming fairs and and springs falling down on you. Save your float, mix up your up-B timing and weave in and out to make it hard for sonic to get a clean hit on you. if you have to recover center stage, don't go throwing out dairs. Just move in and out and time air dodges. You you are just gonna panic to dairs and air dodges, you are good take damage you could have avoid. This is no longer the time for you to play and throw out attacks till your feet touch that stage.
Gameplan:
Your goal is to slow him down so you can get close to him and get something started. When you are at a distance vs sonic, you wanna stay on the ground and use good movement along with Nairs, amd short hopped Dairs. Use the approach method to get in on him. If you block a spin dash DO NOT TRY TO PUNISH HIM. This will get you no where at all and he will just do it again or hit you for trying to punish him on wiff. You wanna hit him where he is gonna be. So if you block a spin dash just chase his landing. When you are close to where he lands see what his response is. Wether it be rolling away, blocking dishing out at an attack, etc. Remember the goal is to stay close to him. When you are, Sonic can not just freely spin dash around. This gives you a chance to counter what he does or get him to block, giving you time to pressure him. And sonic does not an option to counter pressure. He will mostly be rolling or sidestepping to get away.
Going towards him and then going the other way to a reverse jump cancel throw is another good way to slow him down. If you get the hit and the turnip is near you, regrab it and then just mix up all the tools I stated like grounded nairs. mix and match and this becomes really hard for Sonic to get in on you. he might then try to go in running and shielding for possible counter attacks or grabs. or go in with dash attacks. Which you can punish with nairs or short hop dairs.
Sonic does not have any good options out of shield. So in most cases he would be rolling and side stepping. If he blocks for too long, end your pressure strings early to a grab. Mix and match what you do near him to keep him guessing and get the baits/counter for trying to be brave and attack you out of your pressure. If anything he might just up-B out of shield. From here you just chase his landing and use the method I stated on being where his is gonna be. Don't try to attack him for his landing for they might feel too happy and throw out dairs and homing attacks. If not you can go up there and bait at air dodge and hit him with up-air. This is all in terms of adapting to what the player does and then applying the proper response.
Overview:
You seriously need to have good control of Peach in this match up. If not he is just gonna get away with hits for free. Using good movement with grounded nairs and turnips can make this match up annoying for sonic. And once you have him with pressure, he is gonna struggle trying to break free. He does not have a good pressure game so can't really harrass you up close. He excels at you with speed and and making it not safe to float to typical dairs. Try not to be on one place for too long while being patient. he is faster then you and can punish you well at good distances. So you really don't wanna be in the air and dishing out moves like dairs and fairs. Once he gets you in the air, this is where you can not play anymore for he is really good at harassing you in the air. So you wanna do you best to not leave your self in a point to allow this harassment. So clean movement, spaced save air attacks and this can make it hard for sonic to land a good hit on you, slow him down, and then giving you a good chance to counter or go in range with him to get something started. Take your time and you will be fine.
Palutena
​
Approaching:
She has 2 moves that can slow you down with getting close to her. One is her homing shots. Which track where you were (not where you are gonna be). And her reflected. Id does not do damage to you but it does push you back which can leave you open on wiff attacks. You can block the homing shots and then move in a lil. You can mix air and ground approches on these to go under or over the shots. With the relector, you can air dodge through it to a turnip toss or zdrop and punish her for it. Pay attention to both moves and pick the correct times to go in. Just tond rush in on her for this and her fair out range all your approaches along with speed.
Edgeguarding:
The best way to keep her out is to simply through turnips at her at the point she is falling. This can mess up her recovery or force her to up-B early. Which can lead to a free hit/kill near the ledge with floating nair. You can get some could damage just on edgeguarding her alone. Best to just keep it simple And not go for anything to fancy unless you get a hard read and really sure about it. Though you can go out there with time turnip tosses and nair her with an air attack. But if you can't guess when she would teleport, she will just get back on stage for free past you. Putting you on the recieving end of the match.
Recovering:
Mix up low and high recoveries. She can go out low and hit you with fairs. And you dont wanna challenge that move off stage. if you recovery high DO NOT CHALLENGE HER AT ALL! You can die pretty quickly from that hard hitting up-air. Weave in and out and airdodge if you have no choice. Do not panic to that move. A smart player will bait the fear out of you and punish you for a free kill with. Just move back trying to recovery mid level with the stage or just simply go for the ledge. Don't try to land back on stage. For these 2 options that she has to edguard you is why I say mix up high and low recoveries. But in general its harder for her to edgeguard you while recovering low. Just pay attention to the player using her in this case and use good judgment to decide what method is best to recover. Respect her stills and upsmash when on the ledge. They have good range.
Game Plan:
Your main goal is to stay close to her as much as you can and pressure her. She has no solid out of shield options vs you. If your pressure strings have gaps in them just as Dtilt > grounded nair, she can jab inbetween. So either end it quick to jabs or grabs. Or to a roll behind her. Or simply pull back and punish upon the wiff counter attack. Her moves have good range but they are slow. They hurt though. With good pressure she is forced to be patient on shield, or started evading. Read the evasions and make educated guesses to punish them. Its really best to punish those rolls with dash attacks. I don't recommend grabbing unless you are really close to where she would roll.
Overall:
Peach does a good job handinging her. Her tilts are slow but have range. So mixing this along with reflectors and homing shots are really good to slow you down and get you to block or evade with can be baiting for her to get some good damage off. She can get some downthrows to up-ar for kills if you DI wrong. You have to seriously respect her when you are over her. Panicing to dairs and air dodges is not gonna get you anywhere against a smart player. She has some good anti airs such as her Homing attack and Upsmash (which hurts).
She does not have a solid pressure game up close. She would spend most of the time countering what you are doing and being patient. Picking the right time to be aggressive and abuse you when you are over her or off stage. Move in slowly when she forces you to calm down and once in, good with smart pressure mixups within them and you should be ok.
Villager​
Approaching:
You have to approach him grounded. Have a turnip in hand and stay grounded. Going in the air jumping over the rocket will get you hit by a sling shot. You can Ground float nair the rocket if you time it right. After you near the rocket, you can toss a turnip if safe to do so and start some pressure from here. You can not rush to approach or hit him. Take it slow and don't try to be in one place for too long. If you jump over the rocket, you can air dodge his fair when approach and get close to him. You can toss a turnip and hit him after the fair. or go through him and nair/fair.
Edgeguarding:
From a distance, it is possible to snip a ballon with turnips. Then space a dair so it only hits the ballon. This is tricky to do. Toss the turnip upwards and go back on stage. One ballon will be popped by the turnip. The other by your dair. After he will popped up a lil giving you a free punish. If he shoots a rocket close to the stage coming back, Just go low and fair. Vilager usually like to toss a rocket and drop low to a fair. So its a free hit. Villager usually do this to stall and throw you off so they grab the ledge or recover back on stage. Don't waste your time blocking, evading, or jumping over it. if close enough, Just toad. When he is on the ledge, the only options he has to recover back on is his Fair. if you suspect this, Short hop dair him.
Recovering:
You want to be recovering low mostly. Do not try to fight your way back on stage. You are just gonna get hit with sling shots. Airdodge them and go for low recoveries. But be aware that somethings if you go for a straight vertical recovery, they will through out the fsmash and hit you right out of it. Your up-B does not beat that move. in this case lever yourself with the stage if you suspect this. Stall via floating and time a side be towards the stage once the move comes out. Just don't rush recovering low.
Gameplan:
You wanna focus on countering more than anything. 50% of his moveset is projectiles. Trying to approach him in the air with floating or air moves is gonnna get you hit with sling shots. Peach has nothing quick with range to be challenging his moveset. When you are in ranged with him, the 2 moves he has with good range is his Dtilt and Foward tilt. The Dtilt does not not only hit where the dirt flies out. it is a lil farther then that. This is a good spacing tool for him for it has low recovery time. And can be hard to punish. Just see what the player does after that before you try to punish it. His foward tilt also has good range. So that is also something you should not try to challenge.
When you get close to him and force him to block, this is when you can apply the pressure. The only out of shield option he has is his Nair. So make sure your pressure is spaced with Nairs and fairs. End the pressure half way to see if he nairs. If he nairs out of shield and you block it, don't try to punish it. Follow him upon where his is gonna land and see what he does. if he decided to throw out another move, then you wait. Go in with shield. Or just stand at a range where you are out of ftilt/Dtilt range. it is not safe for him to use his sling shot or shoot out rockets. This is a statemate position where no one has the advantage over the other. unless you box him towards the ledge. Then you limit his space. But you still can't just go in on him unless you have a general idea on what the opponent would do., Then you decided whether to go in or wait to counter attack his approach/corner escape. This becomes a great position for you if you have a turnip in your hand.
Overall:
This is a match up you really need to take your time with. He is seriously not having any air approaches from you. So you have to have a strong ground game. he is good at slowing you down and good at edguarding you So don't try to play fancy and aggressive. He is not having that. He has a lot of good mix ups/baits with rocket approaches. he can cover both air and ground options at the same time. if you choose to nair the rocket as he follows it, he can wait to see what you will do and go for a mix up. he does not always have too go for something when he trials behind the rocket. So don't think you can just simply nair and punish a typical approach from a smart player. he has good zoning and walls to make it hard to get a clean hit. You wanna focus more of your aggression when edge guarding.
King DeDeDe​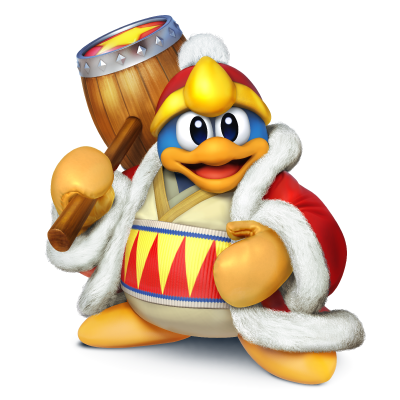 Approaching:
The most coming thing you would see from Dedede is him using his multiple jumps. Usually to bait some sort of action from you, then come in with an attack. Or make you shield. The one thing you wanna pay attention to is the height of where he is jumping. If he if he is using his multiple jumps, a lil higher , you can safely go under him and throw a turnip upward. In some cases an up air would work as well. if you go near him and he uses another jump as you go up, you can up-B him out of it. If he jumps a lil lower to the ground you can jump and toss a turnip to him to a fair. if you are closer, do it to a nair since its faster. if he is grounded, go in on him is a lil easier since you can have turnips cover you to go in and even snuff out gordos if he decided to toss them and send them right back at him. Use alot of grounded turnips or mid turnip apporachs to get in range.
Edgeguarding:
You are better off waiting for him to burn a few jumps before you decided if it is best to go out there. If he is in range and you sense he will burn a few jumps, you can go and fair him out of one. You can also toss turnips upward off stage To mess up his recovery. Then at mid level you can bait an airdodge, or an attack and hit him with a fair/turnip. The more snips you can bait/snip, the easier it is to hit him. If he has to up-B high and go for the ledge, You can through out a toad and you can catch him before he grabs the ledge. Just be aware that he can cancel his up-B if you get to happy with this. if he is forced to recover low and grabs the ledge, stand out of get up attack range and have a turnip in hand. if you know he will jump, you can fair him back off stage. if he does a get up attack, you can punish with a turnip or side B. he does not have any good ledge options. So you best bet is just to stand there at first and see what he does. Once you got a general Idea, then you can to execute the proper punish on how to punish him coming from the ledge.
Recovering:
You mainly wanna aim for low recoveries and have your float saved. Reason for this is he might toss a gordo out there and you would have to Float cancel Nair it out the way. Also means you don't have to panic to an up-b. He does have range on that Fair that I advise you not to challenge. Same with his bair. Evade it if you have no choice. Toad if you see lil too happy trying to hit you. This will tell him to calm down and you can go for safe low recoveries.
Game Plan:
You wanna focus on keeping DeDeDe grounded then get close and start pressure. And always staying on top of him. He has no answer to counter solid pressure. Use the approach method to punish him for being in the air. Grounded nairs are really good at sending gordos back at him. This will limit the use of them. Which just leads you to dealing with his ftilts. As long as you stay out of Ftilt range where it would wiff, he is no threat to you. You gain the advantage if you have a turnip in hand. Once in his face, you can start some pressure on him. He does not have a good up close game. He does not have a good OoS game to punish you. So he would have to evade or be patient on block to see when is the right time to counter attack or evade. Look at how the player evades and keep in mind. If he block a certain pressure string, end it early to a grab. If he evades it, end it early and punish it with grabs/dash attacks. What he has over you is grounded range with Ftilt. And air range over you. For this you can stand a lil out the range and toss a turnip to him. for a approach. Some times give up the approach and see what he does. In the case of incoming gordos which you will be ready to nair back at him.
Spaced Dtilts shield are really good on him and you can easily react to him rolling behind you if he tries. His Jab and tilts are slow. So they will not be relying on them a lot out of shield with good pressure. You can Dtilt to spaced nair to bait grabs and punish. And he is combo food if you land one on him.
Overall:
He is not really annoying this time around. You can shoot his gordos well back at him. Pressure him well. Edguard him well. The only really good spacing tool I seen is Ftilt. His good at harassing you off the stage, when you are above him and obviously Power. But spaced air attacks and good use of turnips make it really hard for him to get a good hold of you. And he is a big target for damage. He is not a fast character to keep up with your movement and pressure. Pick your spots well, look out for gordos and nair them, recover low when possible. Don't challenge his air moves. from all of this, you should do well against a Good DeDeDe. Just mix up what you do a lot to really give him hell and always stay moving. Dedede can get a lot of things starting when you are shielding a lot on him and cover your blind spots with Ftilts and air harassments.
Cloud Strife​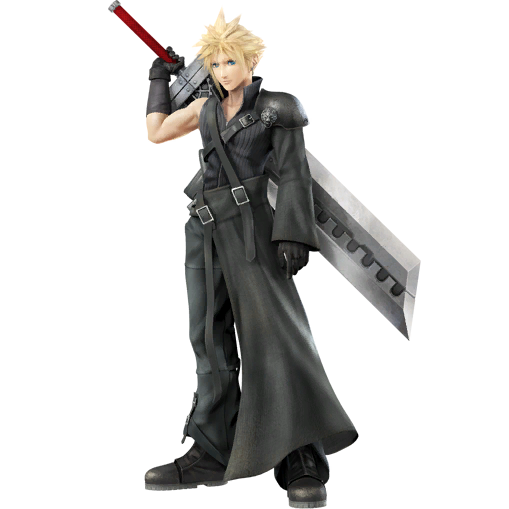 You won't want to be in the air a lot vs Cloud. You wanna remain grounded with mostly a turnip in hand. If cloud does a nair on your shield up/close, that is not save. he has to space it. If he does a falling nair , that is safe if spaced so don't try to punish that either. Moves you wanna look out for is Dtilt And Ftilt. Those are not safe on shield. Same with dash attacks you get cloud in the air, You can stay under him if you suspect a panic nair. And punish out of shield. If he times it right as he is landing, he can auto cancel it and just move as he touches the floor. If if possible, go next to clould and try to get a turnip punish as he lands. or else don't bother challenging this move on landing. Just try to land where he is gonna be.
Cloud pressure game is not that great. He can not safely keep hitting your shield to open you up like Marth/Lucina. Thats why you see high level cloulds hit the shield once (or twice) then move out the way. So pay attention to how cloud tries to bait you on shield. If he does Dtilt, jab 3, All hits of cross slash, he is open for a hit. If he is mixing up his options do not try to punish him out of shield. You are just gonna be left open for a hit. Best try to find an opening where you can get away from him and reset neutral.
If you have your back towards cloud and you are neair him. You can win most air wars with him. The fastest air move he has is his nair at frame 5. But it hits from behind him first. So air would beat just about all his air attacks. Is Uair is frame 7 so if he does it, there is a chance you could trade or get hit first. This is why characters like Marth can do well for his. He does not have anything fast with range infront of him. So if Marth spaces and times fairs with is 6 frames and good range/ Clould can not jump towards Marth with an attack. He would have to RAR Nair But in ties were he cant. Cloud is losing just about all air wars with Marth. So you can abuse this is you are close to him or have him on shield with your back turn. Just don't get too happy with this cause on wiff you could be left open.
Maintain a range where you are out of dash attack range with turnip. Anything he wiffs you can punish with turnip. Thats about all you can really do to safely hit Cloud to get anything started. Anything else you do is a risk i terms of hitting him. Also do not be in one spot for too long and shield when you dont have too. Cloud is safe on shield so you won't really be punishing him out of his stuff unless he does not space his attacks.
can punish clouds air approaches. But this requires good ground spacing and movement/positioning. Make sure t always catch your turnips when it hits and stay close to him. This actually keeps some pressure on cloud where he can't freely come at you and swing for he could be left open for a turnip hit.
When edgeguarding Cloud one of the best ways to do it is to grab a turnip and float with your back turned while floating a but over the ledge. Zdrop it and grab ledge. If the turnip hits cloud you can let go of the ledge and counter him for a free/early kill. And if he does not sweetspot the ledge you can stand near the ledge and counter his up-b
Bayonetta
​
I wanna go over her side-B. I think its really important to know how to deal with this move so you can avoid alot of her nonsense.
S-B Ground:
Block: -42 Wiff - 33frames (first kick) -19 (frames Second kick)
Punish with turnip while micro spacing. Dash attack can work if you are just out of range.

S-B (air):
31 frames of landing lag. Try to end up behind her and punish with dash attack. Or move out the way with turnip punish.
If she is in the air Try to be under with a turnip in hand. The only option she has coming down to hit you is dair. 16 Frame Punish from a shield drop. If she Dtilts your shield You can punish with Dash attack. This is the only quick Option you have to punish if it is spaced. Same with Uptilt.
​
Now while on the ground you really can't swing that much either since you can be left open for bayo jank like side-B. This matchup requires good mirco spacing and patients. If you are not Good at these, you are gonna have a hard time.
So there are a few things you want too look out for before you decide to go for damage. Now keep in mind what I am about to say requires good ground movement, having a turnip when possible again, Patients. Typical Peach play with dairs and floating is gonna screw all this up.
If she is on the ground, what you want to look out for is Side-B. If she does this, your best punish for this is a turnip. Do not try to punish another way unless she does it on your shield. Afterwards if it hits, recatch it and if you can seem to figure out what to do, be at a safe distance and microspace again.
Do this a few times and unless the bayo is just auto piloting and hoping just mashing buttons will work. the Bayo will limit the use of this move dude to the damage you are racking up. This is what you should focus on for getting damage grounded. it also keeps your moves fresh since trying to go in landing one is just a pain.
If Bayo is jumping around as usual with the nairs, bairs. Stay close to her but out of attack range. When she lands if you wanna check her for S-B move back a lil to see if she does it. If not then just stay out of the range of her normals. Abd be on the look out for things like side step and witch times.
If you get her in the air, let her burn all of her moves coming back down. And do not chase her. What you want to do is be under her with a turnip if possible. Do not be afraid to stay under her. The only move she can attack you with is dair. if you sense it, you can shield it. Then Zdrop out of shield to a footstool punish. or ground float nair. If she lands with Side B on the ground she can not move for 42 frames. if not close enough, turnip punish. But this is why staying under her is good and shark her landing.
While staying under her is Bayo does not dair, expect a panic witch time or air dodge. Which you can punish her for. Zdrop is a good way to catch her at the end frames of both. So if you get a grab on her and center stage, toss her up in the air when Dthrow-bair cant combo anymore. And just do what I just explained
If she is grabing the ledge, stand a few feet away where if she was to side B from the ledge she will miss. From here the only options she has is air dodge or witch time, which you might have experienced bayos panic too alot.
She could Up-B out of this as well, But if she does, just stay under her.
To close this up, the moves that I talked about is what you wanna to to bait or punish. These are the best ways to get anything started vs her. Throwing the first punish guessing what she will do is a risk that will have you falling for jank. If these options are not present, then use good ground movement and evasion to be hard to hit
Don't waste your time playing alot of spacing wars with her. Not worth it. And when you can, get a turnip and do not just waste it with a random toss hoping it hits.
Also don't waste your time going in blocking with shield as an approach. Bayos Nair/bair are safe on block. Meaning she is able to move before you can. So shielding like this wont do anything for you. You will just now be on the defensive playing a guessing game with random jank.
Yoshi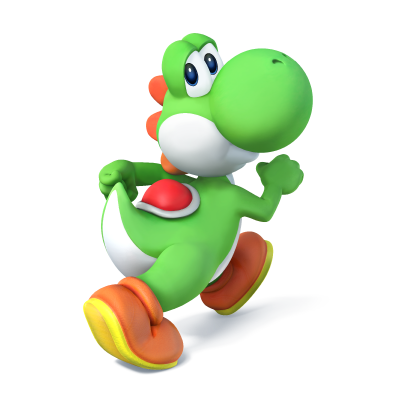 This a match up where being on the ground is the better option. His eggs can force you to air dodge where he can punish you for it with an approach such as nair. So you would have to limit the use of short hop air dodge at times to get close to him.He is also a character you do not wanna be on block against You can't really punish him on shield for his moves if he uses them correctly. Also depending on how the Yoshi is playing, this could be a long match if you are a patient player and not trying to get hit.
If Yoshi is tossing eggs at you it is best to stay grounded. Do not waste your time short hop airdodging them or floating. If you can get a turnip, get one. Then just walk to him with shield if he is doing it in place. You can easily powershield and get close to him, forcing him to stop. And if he does it at an unsafe distance, you can punish recovery with a turnip.
If he approaches with eggs via air, just do the same thing and evade his Nair/fair approaches with rolling or just simply run under him. Just don't stay there blocking. This can leave yoshi open for a turnip toss and even if it does not, you are not in range with Yoshi where can can't freely toss it. Now that you know you can get close to him in a safe manner, on to the character itself.
There is 2 things you wanna look out for. #1 thing is his dash attack. His dash attack can cross you up on shield and makes it hard to punish him for it. It comes oput on frame 10. If it does not cross you up on shield he can't move for 25 frames. So you have more then enough time to punish him for it out of shield if in reach. The best punish would be a dtilt out of shield for heavy damage or to an up-B if he is at kill %. Good ground movement and evasion can make yoshi think twice before tossing this out. The next move to be on high alert is his grab. Although not fast at frame 14, his grab can but you in nasty spots where he can frame trap you with his eggs for damage or a kill off the top.
If you ever get Yoshi off stage, you would need to be a lil bit patient and let him burn his double jump. Yoshis like to use it when they thing you will attack them to super armor the hit. Then punish with an air attack. They will also use it while egg tossing to make you back off. Depending on where he is and how he is tossing the eggs, you can go out and counter them and the spores can hit Yoshi (You can also do this to Mario's fire balls and Pikachi's jolts)Yoshi is kinda commited to his jump since he goes high if he is using it to come back on stage. If he is ever over you fake an air chase to bait a Dair or down B. Remain alil behind or infront of him so you can punish his landing is he wants to come down swinging. But do not be blocking his landing. You can get your shield poked/broken for that.
This is one character you DO NOT wanna test landing on top of. AT. ALL. Uair/Usmash will beat all your landing options on him. And you can die really early for it. So do not even think about it. Go for the ledge or recover low.
Over all use the method just explained. Yoshi can somewhat mix both air and ground approaches with eggs. He has the best air speed in the game. You can "somewhat" play a spacing war with Yoshi. His nair is frame 3 with good range and safe on block. so don't bother trying to punish this move on shield. His fair is slow at frame 16 and it's 0 on block from a shield drop. Meaning both you and him can move at the same time after you drop shield. Your best bet for a punish if in range is to jab him. His jab is 3 while yours is 2. So if he wants to Jab pressure you after a fair on shield just jab. Yoshi can punish you harder for mistakes then you can to him.And if he is playing defensive/campy, you rushing at him with attacks is gonna leave you open. Maintain a range where he cant (as with any projectile user) just toss eggs as much as you can. And look/bait reactions that you can punish or shift control to your favor. if you can't seem to find a solid way to land a hit, just keep playing your game and do not do anything that can leave you open. Yoshi does not really have any good kill set ups so he can't really force them. and will have a hard time killing an opponent of they are on point with spacing/evasion. Don't force or rush anything. Good Yoshi's wont care and will just wait. maintain the range I spoke up and about half of his playstyle is shut down due to limit use of eggs.
Ness
​
There 4 things you wanna look out for when fighting Ness. His Fair, Grab, PK fire and Dash attack. His Fair comes out on frame 8. Though it's not as Fast as Peach bair at frame 6, it does out range you. This is not a move you want to challenge. So respect the move when does it. Move out the way and try not to be in a spot where you can get hit easily with it. Such as spacing your air attacks when he has the chance to jump. If he lands on your shield with a Fair, you have about 11 frames to punish from a shield drop. 9 frames if he hits your shield with the final hit box. So your best option to punish this is to dash attack out of shield if in range. Or else don't bother trying and try to reset neutral.
His grab Is what can lead to fair strings and but you in crappy spots where he can harass your landing with PK thunder. His dash attacks comes out on frame 8. On shield its -6 from a shield drop. So your best bet is to dash attack (Frame 6). If you are a frame or 2 late you are still ok to get the punish. If he tries to roll, the invincibility of the roll wont kick in till frame 4. And side stepping wont kick in till frame 4. if he mashes Jab which comes out on frame 3, you can still hit him before the hit box comes out. The only thing he can do if you are a frame or 2 late for the punish is shield. Which comes out on frame 1. You should have enough time to react to ness dash attacking you on shield for a punish with yours. And lastly his PK fire also leads to grabs which puts you in nasty spots. You also don't wanna bot that move. It's best to move out of the way anyway possible. Being on shield can leave you stuff for a grab out get caught by the fire at the last min.
When Fighting ness it's best to limit the air use so you don't get caught with fair Jank. You also need good ground movement here and evasion to avoid PK fire and random dash attacks. Try not to shield alot Vs Ness if possible. Grabs and PK fire pressure Is what he really feeds on to get his jank started. if you can maintain a turnip while having good ground movement and out of his attack range (mainly Fair) There isnt much ness can do to you. He can't really force much out of the opponent compared to other characters in this game. Most of his wiffed moves are better punished from a distance then upclose to to risk of failure and getting grabbed, dash attacked or faired. His fair has 20 frames of landing lag so if he wiffs that move and you just out the range, punish with turnip. His air speed is barely better then Peach. Hers is 0.95 and ness is 0.9588 So if you get him in the air, Shark is landing. If you sense he will mash a randing attack coming down, QFR out the way and then punish with turnip easily. Or dash attack if possible. Having him in the air over you is always a good thing. So if you grab him center stage and you can throw combo anymore, toss him upwards, get a turnip and shark his landing.
If ness ever gets you in the air and he wants to harass you with PK thunder, you can cancel the attack with your dair (if it's under you) or Nair/Bair (If its infront\behind you) Sometimes air dodging can just leave you open depending on how he is control it to bait that option out. While doing this do not try to land on ness and just to for the ledge or low recovery.When you get him off the stage, you can use turnips to snip him before the thunder. Or snip his jump. If he is in the right spot you can just go off stage and counter if for the kill.
Over all don't be in the air alot and use turnips to punish wiff moves. His moves can be hard to punish on wiff without one. Keep moving and don't be in one spot for too long. Use QFR to help you with this. Do not do anything unsafe that can get you with with the moves I stated you should look out for. You will regret it. Don't focus on playing spacing wars with him in the air. He will win most of them and has the advantage. Not worth it. Do not over extend pressure. One mistake can put you in a crappy situation and could eat alot of damage, or even lose a stock for it. Ness might try to Nair out of shield (Frame 5) or bair which hurts (Frame 10). A Few hits on shield and then back up to see what he does, then take it from there.
Captain Falcon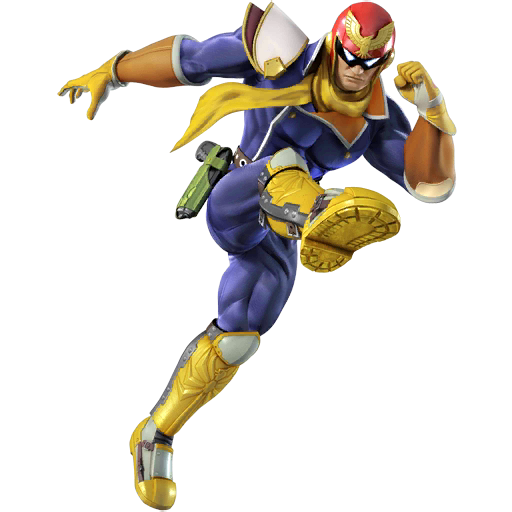 ​
Falcon is a character what requires alot of evasion and ground movement. Nearly everything he does can put you in a nasty situation that he can convert into alot of damage or take a stock. You don't wanna be in one place for too long or blocking alot. This is one of those match ups were feeling confortable on the ground is important. I would advise really brushing up on movement and evasion before thinking on facing a solid falcon player.
There are alot of moves you wanna look for as I said that can put you in crappy spots for falcon to take advantage of. But there are 2 things you wanna play around. His grab and dash attack. if you get grabbed, falco can get some good damage off dthrow or baits air dodges for more hits or a kill. His dash attack also puts you in the air where falcon can get these options off as well. You wanna want to see if the player will toss one of these options out. And if you sense he will be at a range where you can evade it and punish him for it. His dash attack comes out on frame 7 (one frame slower then Peach). So if you do anything unsafe or wiff a move Falcon has the speed to get near you and punish with dash attack. The hit box is active for 2 frames. Afterwards, if he wiffs, he is open for 21 frames. If he dash attack shield, you have 16 frames to punish falcon from a shield drop. Dash attack is a good option if it was spaced. Dtilt as well for at low %it can lead to alot of damage. if not spaced, nair/bair are other options. And for a wiff grab, Open for 29 frames. So you have alot of time to punish him. Just keep in mind that his grab travels pretty far. So you need to over extend the spot you are if you sense a grab coming and wanna dance around it for a punish.
if falcon ever has you on shield, don't try to punish him out of it unless he does something laggy. Falcons jabs can set him up for damage and traps for a kill. Respect this character on shield and look for gabs were you can get some space and Refresh neutral. At average play (and sometimes high level if the player is not respecting you) falcons will jab as their panic button if an attack is blocked or wiffed. So do not try to punish him with a grab or an attack cause he will mash that button like there is not 2morrow. In this cause just back up and let him swing. then punishing him for it like with dash attack or short hopped air attacks. If he ever gets you off stage stage do not try to land on stage near him. Just go for the ledge. Attacking coming down is asking to get hit. And good falcons feed off air dodges. So it best to just back off and go for the ledge at a horizontal angle or a low recovery with up-B
In terms of spacing, Peach can do "ok" with her bair. His nair is frame 7 and uair frame 6. They both out range Peach bair. But if you are not telepathic with your use if it, falcon will have to guess weither to overshoot his approaches to hit you or wait, then strike where he thinks you will be. Since at times falcon gets most of his stuff started from a grab or dash attack, using bairs in a good manner can make it hard for falcon to go for these options. Or even get punished from doing so. Mixing this option as well as ground movement can make it even hard for a character like falcon to get anything started. And if he even does, you at least made him work for it instead of it being easy for him.
Unlike ganon, Falcon does not have a hitbox on his up-B. So if he has to recover low, Zdrop turnips are really good. These are also good to bait air dodges or jumps for obvious recoverys. Mixing this off with floats off stage with a turnip in hand, you can scare falcon well to use jumps early or air dodges and them punish him for it for a stock. Peach is really good at bullying falcon off the stage, so make sure you either kill him or he takes a hell of alot of damage coming back.
Overall this is a match you do not wanna swing alot. for falcon can punish you well for it. and nearly anything he hits you will can lead to alot of damage or a stock. Being in the air alot is also something you dont wanna do. Falcon lacks solid approaches. So he will wait for a chance to get close to you to start pressure or punish you for a wiffed attack. He can just wait for you to land and then force you to block or bait some panic option with his movement then punish you for it. So make sure if you do swing or go in the air it's for GOOD reason. Make sure your movement is clean aand you are hard to hit with patients. solid falcons will wait for stuff to happen. it's how he is gonna get anything started most of the time. And if you decide to be agressive, he will take full advantage of that. Ask yourself what the falcon is looking for and how he seeks to get it based on what you are doing. And when you get him off stage, make sure your edgeguards are on point. You could end stocks really early on falcon if you get him off stage.
Mr. Game & Watch
​
You are gonna want to limit the time you are in the air vs this character. If he hits you in the air or gets you in the air, you can takes alot of damage for it and it can be really hard to come back to the stage. or even lose a stock for it. So good ground movement is important here. if you are not solid with being on the ground, you best to work on that or you are gonna have a hard time here.
There are 2 main moves you wanna be on the look out for. His Nair and bair. His bair comes out on frame 10 and has good range. Don't bother challenging the move. it has 19 frames of landing lag. If he hits you with the attack on shield it is -3 from a shield drop. The best method to punish this is dash attack OoS if close enough. He has to shield or side step soon after to avoid getting punished. Anything else he does in terms of rolling he will get hit for it. His nair comes out on frame 7. Your bair beats it in speed by one frame but I would not try to play around with this move too much. It's -1 from a shield drop. This one is a lot harder to punish. If he wiffs the move near you, he suffers 12 frames of landing lag. So you could get a punish with a dash attack if close. His fair comes out on frame 10 and if he lands on your shield with the early hit, it is 0 on block. Which means both you and him can move at the same time after you drop your shield. You can not punish this move if he spaces it. Ftilt and Dtilt are not safe on shield at all. You can dash attack him out of shield for a punish.
Good use of turnips give this character a hard time to deal with you. His approches are not that great, and he is not that fast. Good uses of them make it hard for him to get in with a good mix of QFR. You wanna limit the uses of short hop air dodging here since his bair/nair are active for a while and you could air dodge into them. Don't get too happy when you have him on shield since he can up-b out of hit. Touch his shield once or twice then back off to see what he does. His landing options are not that great. If you sense he will dair You can go under him and shield. he is -11 on shield from this move. If you are good it, you can ground float nair out of shield for the punish. Anything else you tru to do won't be fast enough outside or jab/grab. Or you can stay around his landing and when he does it dash attack up. for it. Turnips are the best way to punish him for all of his stuff like this and not worry to much of screwing it up. So don't be afraid to shark his landing all because of his dair.
When recovering, just go for the ledge, do not even bother trying to land on stage vs him or attack coming back. And in terms of edgeguarding him, that up-B is something you can not really challenge so dont worry about going to hard trying to hit him unless you know he will jump/airdodge for a kill. Just play a ledge game.
If you have good ground control with Peach and have a good use of turnips, this character seriously has a hard time landing a good hit on you. On top of that he is a light character. #rd lightest character in the game. So you rack up damage with turnips and land a strong blow at high %, this character won't be on stage for very long. Just keep playing and doing what I stated here and you should not have much trouble with the character.
​
Last edited: