Joined

Jul 30, 2005
Messages

5,178
Location
Link to original post: [drupal=3744]Go Listen to 'In the Aeroplane Over the Sea'[/drupal]
I am an extremely cautious consumer. Before I buy anything, I do extensive research on it to see what other people thought of it. Nowadays I generally just apply this philosophy to things that can be measurably compared (for example, after comparing and contrasting the 5th and 6th gen iPod Nanos, the prior was the clear choice for me), but I use to have this attitude towards matters of personal taste, too. I would always see what critics thought of movies, video games, and music before I bought them.
I hate wasting money.
A few years ago, I got my first MP3 player: a little iPod Shuffle. I needed some music for it, and being very anti-piracy, went to iTunes to browse.
After hours of wading through music, I stumbled across an album called "In the Aeroplane Over the Sea," by a group called "Neutral Milk Hotel." Right here I knew this had to be something different; not only was the band's name completely nonsensical and the album's title oddly intriguing, but it has some of the strangest album art I've ever seen. Just look at it:
It's just really, really weird. It's completely out of place, first off; this doesn't seem like the sort of thing you'd see as album art, it looks like artwork you'd see at a really old carnival or something. Second, what is going on here? What's up with that ladie's face? When I first saw it, I thought it was a slice out of a potato or a mirror or something; now I see that it's supposed to be a drum of some sort.
After I fell in love with the album I had to buy a physical copy, and found that the artwork on the back cover is even weirder.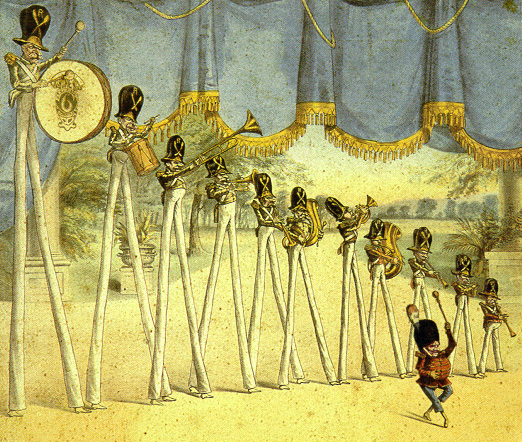 I don't even have to say anything about this. It speaks for itself.
I'm going way off track. I opened it up in iTunes, and saw that nearly everyone had glowing reviews for it (with the occasional 'I don't get this urrrrrg' here and there). I figured hey, why not.
The first time I listened to Aeroplane was on a car ride. Snowy day. I didn't really absorb it all that much at the time; I found it had some cryptic lyrics, bad singing, but generally pretty cool.
I decided to listen to it again that night in bed, and was blown away. By the end of it, I was in tears.
I don't hesitate to say that Aeroplane is the best piece of music I have ever heard. It is a glimpse into another person's mind and heart, it's raw emotion in the form of sound waves. It's a confession that you thought would always be a secret. It's childish innocence and adolescent sex. It's comforting at one time and depressing at another, it's familiar and alien, it's about Jeff Mangum (the guy who wrote/sang this peice of art) and it's about you, all at once. I can't express how strongly I feel about how beautiful I think Aeroplane is.
I urge you: go buy this album. Borrow it from a friend. Torrent it. I don't care how you get a copy of this album, just get it. Listen to it casually while you surf the web. Tonight, when you're laying down in bed, listen to it again, with your eyes closed and just letting it envelop you. Come back here, and tell me what your reaction was, if any.
I warn you, this may be difficult for some to listen to at first. The singer isn't talented, and I've seen some people complain that the music isn't very complicated or whatever. It's the singer's lack of talent which really creates the raw emotion that bubbles up inside you, though. Listen to it a few times; it gets better and better with each listening. My brother hated it at first, and now it's his favorite album. Be open-minded.
tl;dr Go download 'In the Aeroplane Over the Sea,' listen to it a few times, and tell me how you feel about it/whether or not you have an emotional response to it.